Market orientation at universities: construct and exploratory validation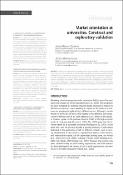 Ver archivo
acceso abierto
Ver archivo (enlace externo)
acceso abierto
Author
Rivera-Camino, Jaime
Molero Ayala, Víctor
Resumen
Faced with a panorama of growing competitiveness in which universities are forced to get resources on their own, the concept of market orientation can be seen as a solution backed by ample literature. However, the existing literature is based principally on the profit-making sector with the publications in the educational field being still scarce. The purpose of our exploratory research is to develop and validate a market orientation measure in a sampling of Spanish universities. The scale integrates and expands the theoretical proposals from previous research; it shows acceptable levels of reliability and validity while allowing the setting-up of future lines of research in the area.
Ante un panorama de competitividad creciente en el cual las universidades están obligadas a conseguir recursos por su propio desempeño, el concepto de Orientación al Mercado se presenta como una solución apoyada por amplia literatura. Sin embargo, la literatura existente se basa principalmente en el sector lucrativo y las publicaciones en el sector educativo aún son escasas. El propósito de nuestra investigación exploratoria es desarrollar y valorar una medida de Orientación al Mercado en una muestra de universidades españolas. La escala integra y expande las proposiciones teóricas de investigaciones previas. Muestra aceptables niveles de fiabilidad y validez y permite establecer líneas de investigaciones futuras en el área.
xmlui.dri2xhtml.METS-1.0.item-citation
Rivera-Camino, J., & Molero Ayala, V. (2010). Market orientation at universities: construct and exploratory validation. Innovar, 20(36), 125-138. https://revistas.unal.edu.co/index.php/innovar/article/view/29156/29416

Except where otherwise noted, this item's license is described as Attribution-NonCommercial-ShareAlike 4.0 International
Related items
Showing items related by title, author, creator and subject.
Jayaram, Dureen

;

Manrai, Ajay K.

;

Manrai, Lalita A.

( Universidad ESAN. ESAN Ediciones,

2015-12-01

)

The transition economies of Eastern Europe present both the opportunities and challenges for companies operating in these markets. On one hand, these countries have a large number of technology savvy young consumers, and ...

acceso abierto

Gastañaduy, Alfonso

( Universidad ESAN. ESAN Ediciones,

1995-12-30

)

This case study deals with the strategy designed by a company to introduce a mass consumer product to the market. It describes all the steps followed in reality to apply the decisional marketing tools. To do this, it shows ...

acceso abierto

Yousaf, Imran

;

Hanif, Hasan

;

Ali, Shoaib

;

Moudud-Ul-Huq, Syed

( Universidad ESAN. ESAN Ediciones,

2021-12-19

)

Purpose. The authors aim to examine the mean and volatility linkages between the gold market and the Latin American equity markets in the entire sample period and two crises periods, namely the US financial crisis and the ...

acceso abierto