Capturando la cultura: tres aportes de la antropología a la selección de personal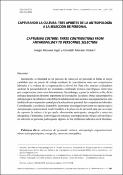 Ver archivo
acceso abierto
Ver archivo (enlace externo)
acceso abierto
Author
Morales Inga, Sergio
Morales Tristán, Oswaldo
Resumen
Ideally, the purpose of a personnel selection process is to find the best candidate for a job through correspondence between their labor competencies and the culture of the organization (cultural fit). For this, many evaluators analyze the personality of the applicants using psychological techniques, competency-based interviews, among other tools. However, despite referring to it, this approach neglects an important element of the equation: culture. From an anthropological perspective, culture not only defines the nature of a nation or an organization, but also another main component for personnel selection: labor competencies. Considering the available evidence, this research presents three contributions that organizational anthropology can provide to personnel selection so that it is capable of capturing the culture to which it appeals: participant observation, ethnography and ethnographic interview. Finally, the research concludes that promoting an anthropological approach in personnel selection could palliate some of the problems indicated in the literature.
Idealmente, la finalidad de un proceso de selección de personal es hallar al mejor candidato para un puesto de trabajo mediante la concordancia entre sus competencias laborales y la cultura de la organización (cultural fit). Para ello, muchos evaluadores analizan la personalidad de los postulantes empleando técnicas psicológicas, entrevistas por competencias, entre otras herramientas. Sin embargo, a pesar de referirse a ella, dicho enfoque descuida un elemento importante de la ecuación: la cultura. Desde una perspectiva antropológica, la cultura no solo define la naturaleza de una nación o una organización, sino también de un componente central para la selección de personal: las competencias laborales. Considerando la evidencia disponible, la presente investigación presenta tres aportes que la antropología organizacional puede brindarle a la selección de personal para que sea capaz de capturar la cultura a la que apela: observación participante, etnografía y entrevista etnográfica. Finalmente, la investigación concluye que impulsar un enfoque antropológico en selección de personal podría paliar algunos de los problemas indicados en la literatura.
xmlui.dri2xhtml.METS-1.0.item-citation
Morales Inga, S., & Morales Tristán, O. (2018). Capturando la cultura: tres aportes de la antropología a la selección de personal. Palermo Business Review, (18), 261-280.